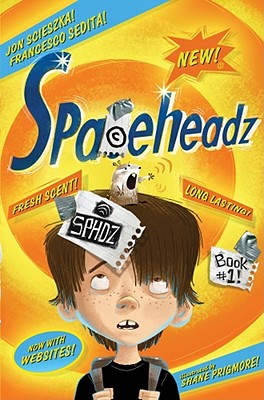 SPHDZ Book #1 (SPACEHEADZ) by Jon Scieszka and Francesco Sedita, illustrated by Shane Prigmore.
When we began reading SPHDZ, we expected to like it.  It's by Jon Scieszka! The first National Ambassador for Young People's Literature and author of one of our favorite fractured fairy tales, The True Story of the 3 Little Pigs.
For the first several pages, we weren't sure.  Even though we know Jon S. *knows* what kids – especially boy kids – like to read.
But, slowly, the book grew on us. And now, we can't wait to read the next book in the series.  And we're absolutely certain boys (and girls) will love this book.  It's got amazing illustrations by Shane Prigmore and lots of fun cyber and walking-commercial-slogan type references.
By the end of the book, we, too, wanted to "SAVE THE WORLD." We wanted to be SPHDZ!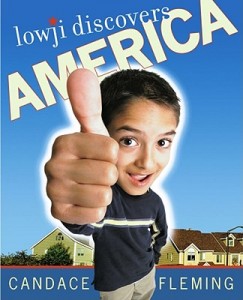 LOWJI DISCOVERS AMERICA by Candace Fleming
It's the beginning of summer and nine-year old Lowji and his Ma and Bape have just moved from Bombay to a small town in Illinois. Lowji misses home and his best friend, Jamshed.
The summer stretches out long, lonely, and friendless.  America's not so different from what Lowji thought it would be, but it's not home and Lowji's looking for silver linings.
Before long, a dog, a cat, goats, a pig named Blossom and his tough-guy owner, Ironman, a mysterious girl on a blue bicycle, an overworked Landlady Crisp, and more come into Lowji's life and fill the summer with crazy adventure.
By summer's end, Lowji finds the best of silver linings. A new friend.
When Tamika, the girl on the blue bicycle, visits one evening, she comments on the kitchen garden that Bape and Lowji had planted.
"What will they grow into?" she asks.
"Flavors from India," I say. "Green chilies.  Coriander. Curry leaves.  Onions."
"Really?" says Tamika.  "Plants from India can grow in America?"
I nod.  "They can grow and flourish."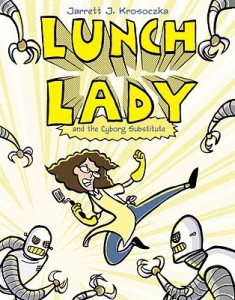 Lunch Lady and the Cyborg Substitute by Jarrett J. Krosoczka
The Breakfast Bunch – Hector, Terrence, and Dee –  have always wondered about the Lunch Lady.  What does she do when she's not dishing up chicken patty pizzas or her famous French toast sticks?  Soon enough, the BB discover that the Lunch Lady and her sidekick, fellow cafeteria worker, Betty, are on the prowl for unusual and suspicious looking characters. They're off in pursuit of justice!
When we first heard a while back about this new series, we couldn't wait to check it out.  And we did.  We read a few pages while standing in the book store and decided not to buy.  We know. We know. We should've kept reading, because when we recently returned to really look at and read the book, cover-to-cover, we felt we'd discovered a new gem.
Kids are going to love the Lunch Lady and, best of all, there are more in the series.  We haven't read the other two yet, but we will, and we have a feeling these books will be just as much fun!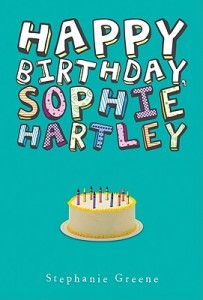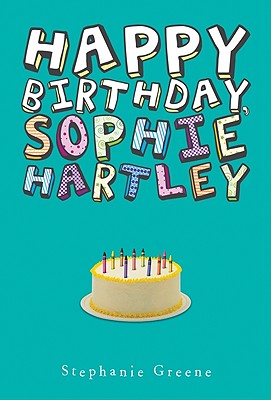 HAPPY BIRTHDAY, SOPHIE HARTLEY by Stephanie Greene
It's almost Sophie's double-digit birthday and things are off to a rocky start.  Even though her dad had said, "Wonderful!" when Sophie told him she wanted a baby gorilla for her big day, deep down, Sophie knew it wasn't going to be as easy as all that.
And now, older sister, Nora, has decided to move to the attic, leaving Sophie bereft and alone, with only a "tiny sliver of light under her door for company."
Things are changing and readers will empathize with dear Sophie as she struggles to find her way along the sometimes bumpy road of a 9, almost 10, year old girl growing up as the middle child in a busy, but loving family.
Reading HAPPY BIRTHDAY, SOPHIE HARTLEY, ReaderKidZ laughed and ached for Sophie, admiring her stick-to-itiveness and spunk.  We also marveled at the wonderful way Stephanie Greene weaves subplots, bringing the story full circle to a satisfying ending that leaves Sophie with a gift far better than even she could have imagined.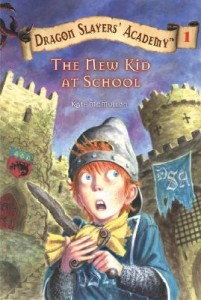 DRAGONSLAYER'S ACADEMY:THE NEW KID AT SCHOOL by Kate McMullan
When third-eldest son of Fergus and Molwena, Wiglaf of Pinwick, is told by a traveling minstral that he was born to be a hero, he can scarcely believe it. A hero. Imagine!
Shortly thereafter, Wiglaf and his family stumble upon a note tacked to the village message tree – The Dragon Slayer's Academy (DSA) is looking for candidates!  Wiglaf is certain he's found his true calling.
Soon, Wiglaf is off to the DSA in search of heroics and adventure, his pack loaded up with cabbage "delicacies," his lucky rag, and his faithful pig and sidekick, Daisy, close behind.
This early chapter book is a sure-fire winner, with laughs a-plenty and twists and turns that will have young readers anxious to read more in this series chock-full of dragon-slaying adventure.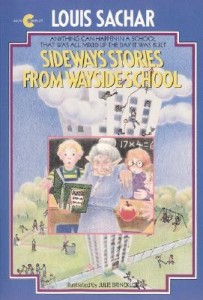 SIDEWAYS STORIES FROM WAYSIDE SCHOOL by Louis Sachar
Short, silly stories – one chapter for each floor, thirty in all  –  about the students and teachers of the "accidentally-built-sideways" Wayside School. These slightly exaggerated, somewhat true but all-around, wacky stories – first published over thirty years ago – have stood the test of time.
Fans of Sideways Stories are sure to enjoy reading more about the Wayside School crowd: Wayside School is Falling Down (which we have to say, we enjoyed even more than Sideways Stories…) and Wayside School Gets a Little Stranger.
Find more book recommendations in BEYOND BOUNDARIES.