Open the windows.  Stir up some thinking.  Stretch!
Books described here show children in a variety of places facing tough situations.  The theme of each book echoes the theme of this month, "New Beginnings."  Each story shows a child who "looks through a different window" with a different perspective.
School is starting.  But what if you have no school?  What if you are a girl and – girls are not allowed?  What if you are a newly relocated refugee coming from a country that no one has heard of and nobody knows how to pronounce your name? Or what if you must go to a school that is far away from home and you have to leave "home" behind – your friends, your clothes, your language, even your name?
Starting something new – being the new kid –  is scary no matter where you live or who you are.  Sharing a good book helps.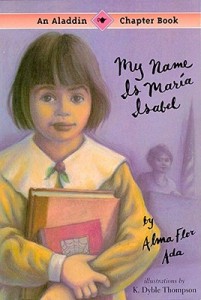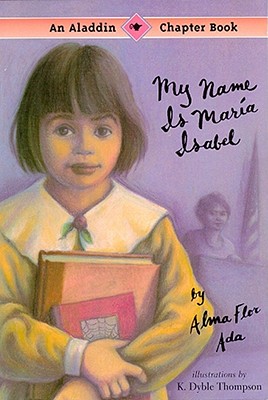 MY NAME IS MARIA ISABEL by Alma Flor Ada.
María Isabel is a new student in a classroom that already has several "María's."  Her teacher suggests that, to avoid confusion, this new María will be called Mary.
But one's name is who one is – within family, at school, and within one's culture.  And that should not ever be taken away.
María Isabel  learns that keeping her name is part of honoring and celebrating who she is.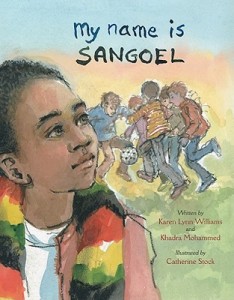 MY NAME IS SANGOEL by Karen Lynn Williams and Khadra Mohammed, illustrated by Catherine Stock.
A refugee from Sudan, Sangoel arrives in the United States with almost nothing except his mother, sister, and his name.  How important is his name and how frustrating that no one pronounces it correctly nor understands that a name is a heritage.  Sangoel creates a clever solution which becomes an important first step in creating a community of friends in his classroom.
** MY NAME IS SANGOEL was one of five books recently nominated for the Carolyn W. Field Award by Pennsylvania librarians.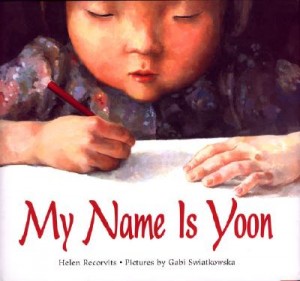 MY NAME IS YOON by Helen Recorvits, illustrated by Gabi Swiatkowska.
Her name, Yoon, means "Shining Wisdom" and in Korean, "The symbols dance together." In Korean letters – her name, Yoon, looks happy.  Looking at the letters makes her feel happy.
When her teacher asks her to practice writing her name in English, Yoon, practices different names: cat, bird, cupcake.
As Yoon begins to settle into her new class and make a friend, that makes her feel happy too.  Yoon learns that in English or Korean, her name will always mean Shining Wisdom.
SUGGESTION:  Share the story about each child's name.  Children can "research" the history of their name by interviewing family members, then write or draw about what their names mean.  Information about each individual child's name is shared.  Awareness and appreciation – and accurate pronunciation – of each other's names is created.  Community within a classroom develops.